Thought leadership is an abstract concept to many. How does one become a thought leader then? Ideally, you would need to know how to implement a thought leadership driven marketing strategy in a predictable and measurable way.
The framework described in this post will help you meet those objectives. Hopefully, you'll also be more successful in securing c-suite buy-in for your strategy while managing expectations.
Those are worthy goals indeed. Let's get started.
Firstly, let's explore the concept of a 'thought leader'. According to the Wiki mind;
'A thought leader is an individual or firm that is recognized as an authority in a specialized field and whose expertise is sought and often rewarded.'
That's a good definition. Any business brand (or personal brand) needs to be considered a thought leader in their niche for long-term brand vitality and viability.
There's this study by Edelman and LinkedIn on how thought leadership impacts B2B demand generation, which has found that:
Over 80% of business decision makers said that thought leadership increased their trust in a vendor organisation.
And more interestingly –
Nearly half of the decision makers said thought leadership has directly led them to award business to a company.
Fellow marketer Heidi Cohen points us to credible UMass Dartmouth research findings to surmise that:
51% of the Top 200 Fortune 500 companies have a blog compared with 35% of the Bottom 200 Fortune 500 companies.
Social Media Marketing expert Mark Schaefer uses the same research to indicate the surge of Instagram and blogs at Fortune 500 companies.
Both Mark and Heidi mention thought leadership as one of the strategic reasons for the increase in use of social media and blogs among these corporations.
That's all good you say, but not all of us are in the Fortune 500 yet. What if you aren't in that esteemed list?
Well, HubSpot Marketing Statistics show:
B2C companies that blogged 11+ times per month got more than 4X as many leads than those that blogged only 4-5 times per month.

Companies that published 16+ blog posts per month got about 4.5X more leads than companies that published 0-4 monthly posts.
So how do you position your brand to be a thought leader in your industry vertical? Is there a way to do this regardless of your current 'Non-Fortune 500' designation?
Luckily, yes. There is an easy framework to incorporate into your content marketing strategy to create a thought leadership position for your business or personal brand.
This framework may even save you from the random leadership quotes that currently stand in for many a thought leadership tactic. You know? Those 'random acts of content' Mark has written about.
Introducing the TLC (Thought Leadership Cluster) topics framework
There are 5 steps to the Thought Leadership Cluster framework which seeks to simplify the approach to content marketing for thought leadership.
1. Know your customer/audience.
This step may seem obvious but it's amazing to see how some brands have no structured document on who their customers are. Creating content about everything, is in a way, hoping something works. We all know that hope is not a strategy.
There are plenty of resources out there to help you create effective buyer personas to apply to an effective marketing strategy.
2. Create value for your topic clusters based on niches.
Once you know your buyer personas, you also want to decide your topic cluster based on:
– Broader Niche Topics: These are topics that would tackle the broader interests within your target niche. E.g.: Your business wants to generate leads for a project management software. 'Time Management Tips', 'Project Management Best Practices' may be a couple of broader topic clusters, each with their own sub topics.
– Niche Topics: These topics would be closer in interest to your target audience. Like 'Project Management for Start-ups', 'Best Project Management Practices in SaaS'. And again you would organize other sub topics around these main topic clusters.
– Target/Product Niche Topics: These would emulate one-to-one conversations with those who are your in-market (ready to buy) prospects. These topics would show how your in-market customers can resolve their biggest pain points. e.g.: 'How our XYZ project management software helps in customer retention' etc.
Although the 'Target/Product Niche Topics' could form the bulk of your content, the other TLC topics will lay strong foundations for longer-term brand vitality and provide room for other benefits like creative expression and well-rounded thought leadership in your niche.
Generally your broader niche TLC topics would yield a bigger audience.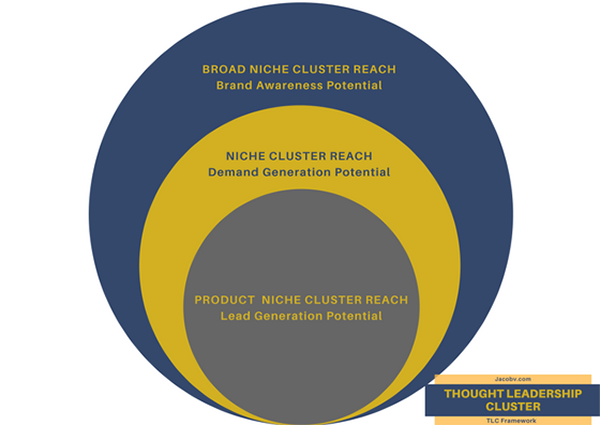 TIP: Use the Google Keyword Planner Tool or SEMRush (affiliate link) to find keywords related to the topic clusters. This will help you with ideas for more content on these topic clusters.
3. Make sure to check all the right persona boxes.
Ensure that these TLC topics resonate with most of your reader/buyer personas. Use a spreadsheet to keep track of which personas and TLC topic each content piece is being written for.

As you see in the spreadsheet, I've expanded the TLC framework to add additional target audiences (in the yellow section), like press releases and partner relationship content, which are part of any B2B marketing strategy.
This spreadsheet should help you ensure that your content is targeted at the right personas/ audience. Ideally, you need to have at least two Ys in the yellow section for each piece of content to make sure your strategy is aligned to business goals.
You can expand on the persona/target audience section to include for example, HR related blog posts to help with hiring initiatives. Your personal brand could use an adapted version of this framework too.
Download a copy here (use File>Download as).
4. Create various types of content for your top level TLC topics and its sub topics.
Now that you have a structured high-level framework of what topics you can write about or create for your LinkedIn, Instagram, Blog etc., create different content to fill up that spreadsheet in the previous step.
The content you create will include:
Videos
Articles
Podcasts
Infographics
Ads
Photographs
Memes
Hashtags
Case studies
Whitepapers
Ebooks
Etc.
5. Find your TLC kin.
If you have not already, you now want to connect (digitally and otherwise) with other influencers and audiences on those TLC topics. You can share, exchange, and amplify each other's valuable content for mutual audience growth and learning.
Your TLC topic framework will help you with your distribution strategy because it instinctively focuses you on the right audiences and partners that will help you scale.
It's that easy. Taking this high-level framework approach to content can translate into benefits for many other marketing tactics that a modern marketer seeks to leverage.
The top 6 benefits of TLC topics framework
You'll find even more benefits as you implement TLC topics into your content strategy but these 6 are the ones that stand out.
1. SEO: An updated SEO tactic for your blog or website.
Okay, here's a confession. The TLC concept is the evolution of what has been working very well for me thanks to the implementation of the concept of topic clusters as the new SEO tactic (HubSpot). By implementing the tactic I've seen results in under two months. More on this some other day.
Notice that the TLC framework is well aligned with the evolution of SEO and it will reap you SEO benefits as long as it is implemented with a basic understanding of SEO. As a blogger, you will need to create internal links from your sub topics to your top level TLC topics for best results.
2. Creativity: Increase your creative range while you build thought leadership.
It could be limiting to your creativity when you develop content with the sole objective of improved SEO ranking. Your content can get monotonic and superficial. By using the TLC framework topic layers, you get to work a full range of creative topics that are all related to your overall positioning as a thought leader.
With this expanded range of topics your content inherits more authenticity and is also more interesting for your audience.
3. Scalability: Keep adding to your TLC topics.
Have another keyword or phrase you want to drive traffic with? Want to explore new opportunities? You can add to your TLC topics to explore new markets. As long as you can find a way to connect these new opportunities to overlap with the interests of your current audience, it will contribute to your thought leadership activity.
4. Marketing Integration: TLC for  brand awareness, demand generation, and lead generation.
The TLC concept allows you to have a holistic approach to your content strategy while you grow your position as a thought leader.
The TLC layers work for all levels of your marketing funnel. If you seek to create more brand awareness across a wider swath of your industry you would focus on broader niche topics. Some of these audiences who enter at the top of your funnel will invariably find their way through to the bottom, ending up as your customers.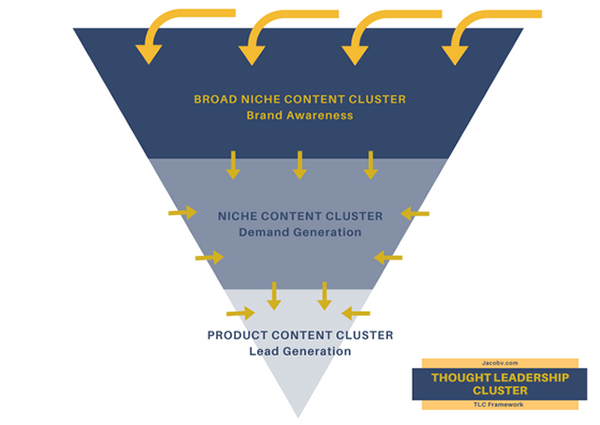 5. Measurability: Easy to measure and optimize performance against broader goals.
Rather than focus on the performance of individual keywords or objectives, you can now measure contributions to various marketing goals based on the performance of the clusters.
You can align these performance metrics against business goals for the short term (e.g: lead generation) without completely compromising on long term thought leadership positioning.
If you choose your TLC topics well, you will achieve multiple marketing goals simultaneously while always having the agility and flexibility to focus on specific areas in the short term.
6. TLC for Paid search.
This framework can guide your budget and strategy for PPC tactics and promotional posts across channels. Your marketing automation team could use the same TLC topics to personalize drip campaigns across different audience segments.
Thus your content, automation, and paid search teams can sync to common marketing goals at any point in the funnel.
OR the strategy could be that each team prioritizes different goals. E.g.: The paid search team could focus more on lead and customer acquisition inherent in the narrower TLC topics, while the content team could focus on the top parts of the funnel and develop paid retargeting opportunities for the paid search teams.
It could be easier to justify to the c-suite that your ad spend is more focused on customer acquisition and easily measurable results while your content team plays an 'assist' role in this process.
The TLC topics can thus simplify strategy for your marketing team as well as help manage executive expectations for tactical plays.
Over to you. What do you think of this TLC topic framework? Is it going to be helpful to you in your marketing strategy?
I'm looking forward to seeing what you do with the TLC framework for content marketing and how you would improve on it.