As of writing this blog post, all my current clients are B2B services. So I thought it'd be interesting to find out how Canada's fastest growing B2B service businesses fare in their digital marketing efforts.
Such case studies are a useful part of any marketer's arsenal. After all an analysis of the competition is a foundational pillar of any good digital marketing plan.
Obviously there are different types of B2B services and I don't want to lump all of them together in this blog post. I'm using the Profit 500 2015 results to help me in my categorization efforts.
For this article we'll be focusing on the top 3 companies from each of the following sectors:
Canada's fastest growing HR companies – the 22 HR services firms on the list grew their revenues an average of 633% between 2009 and 2014.
Canada's fastest growing technology services firms – according to ProfitGuide the 76 IT firms in this ranking grew their revenues an average of 597% between 2009 and 2014.
Canada's fastest growing professional services firms – from legal advice to management consulting, security to translation, and auditing to editing, the 34 professional services firms on the list grew their revenues an average of 290% between 2009 and 2014.
Competing in any of these niches? Want to find out about how your business fares in your niche?
This will be a non-comprehensive analysis for the sake of brevity. It is but a snapshot of some critical digital marketing components across a sliver of time.
Business success is obviously NOT determined within such limited perspectives. However, these case studies will provide value for business trying to inform their own digital marketing strategies.
Digital marketing case studies of the top 3 fastest growing HR companies
1) TEEMA SOLUTIONS GROUP: Staffing and recruitment firm
Profit500 ranking: #11
Head Office: Vancouver, BC.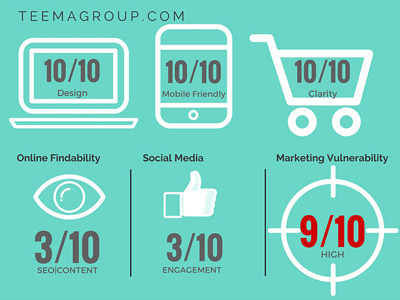 This is a well designed WordPress website that works very well on all devices. Aesthetic and well placed CTAs focus on their main business activity.
99+% of the organic traffic (online traffic from relevant keyword searches) comes from the branded search term 'teema'.

Which means the website does not rank very well for relevant keywords in their niche. i.e.: Their organic traffic from non-branded but relevant keywords is quite low.
It's difficult to rank high for keywords like 'job search' in the face of well established job sites like Monster and Workopolis. However, it's relatively easy to rank for location specific or even longer-tail keywords like 'job consultants in Vancouver' or 'leading job placement agencies'.
One can also find keyword ranking opportunities for terms like 'staffing solutions' as you will see in our next case study.
Of course, a comprehensive keyword analysis is necessary to determine both – the competition levels and the monthly volume trends for these keywords.
Teema is active on their LinkedIn page although the links to the page were broken on their website. Most of the current activity is related to job openings. LinkedIn can be better leveraged.
It's also relatively easy to auto-tweet each new job posting on Twitter, to start with.
Any company in this niche can improve their digital presence with consistent, industry-relevant, and interesting curated articles, content creation, and conversations.
Some boutique recruitment firms are increasingly finding success in content marketing for their businesses with LinkedIn post publishing. That's great, but over the long-term it is a better strategy to diversify activity across multiple social channels.
Less risky. You never know when a social media company will change the rules of the game.
2) PEOPLE STORE STAFFING SOLUTIONS: Staffing and employment services
Profit500 ranking: #34
Head Office: Mississauga, ON.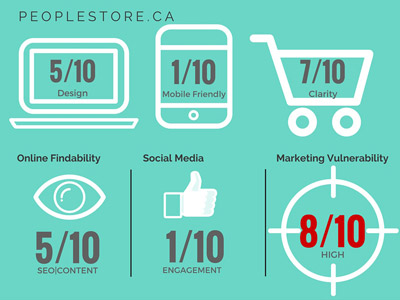 The website is showing its age and not optimized for mobile devices. However it ranks well for some niche relevant keywords.
About 87% of the organic traffic to this website comes from highly pertinent keywords according to the Google Canada database.

The website could possibly fare better if it were mobile friendly. This may well be its Achilles heel. Failing to provide a mobile friendly experience can be a disadvantage in an increasingly mobile world.
Trends indicate that mobile friendly sites are going to benefit from improved SEO rankings over websites not optimized for mobile.
Any competitor's digital presence will benefit from an SEO strategy that includes backlinks. This website has about 142 backlinks from 14 external websites.
It takes considerable effort and time to beat a web property with a strong, established on-page and off-page SEO advantage. At this time just a modest effort could out-rank this website given a few months.
Quicker results can be obtained by adding social media and content marketing strategy to the mix.
3) BLUELIME ENTERPRISES: Staffing company specializing in utilities, engineering, construction and IT
Profit500 ranking: #54
Head Office: Toronto, ON.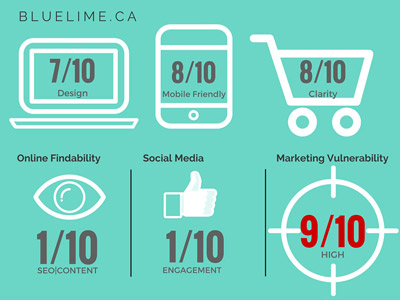 This is another website that could use the SEO, social, and content marketing strategies discussed earlier.
The WordPress enabled site is mostly mobile friendly though the 'project finder' tool is not.
The tips and observations for competitors mentioned in the previous two case studies apply to this website too.
Digital marketing case studies of the top 3 fastest growing technology services firms
1) ENGAGE PEOPLE (FORMERLY MYAXS): Provides technology and fulfillment services to the consumer loyalty industry.
Profit500 ranking: #12
Head Office: Concord, ON.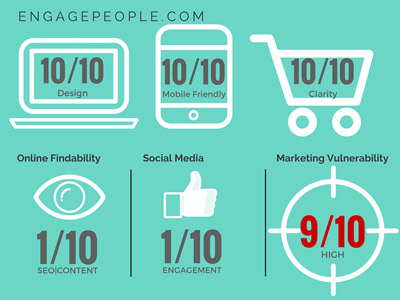 The Twitter Bootstrap based website is extremely user-friendly, mobile-friendly and business goal-friendly. It's easy to find information about the company and their services on this tastefully designed website.
Digging deeper however, the organic traffic is negligible. None of the 8-9 keywords the website ranks for are directly relevant to the customers of this firm.
All the organic search traffic is driven by branded search like 'lrg company' where LRG is one of their product offerings. Even here, relevant branded keywords are not in the top 10 ranking.
Their LinkedIn activity indicates that the company is in hiring mode. Recent news also suggests that the firm has just re-branded. So we can assume that the less than stellar digital marketing efforts are just temporary.
At present though, all this leaves the company extremely vulnerable as far as digital marketing presence is concerned. A decent SEO and social campaign from the competition can establish/consolidate a lead that could prove troublesome for EngagePeople.com in the long run.
2) A HUNDRED ANSWERS: Management and technology consulting.
Profit500 ranking: #15
Head Office: Ottawa, ON.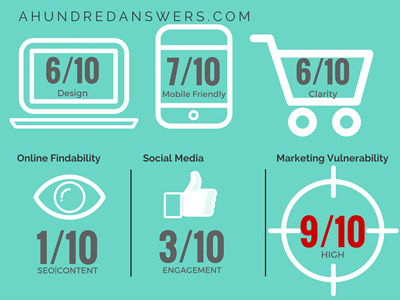 The website design looks a bit dated. The navigation structure tries to cram in a lot of information. I guess there is a large range of services offered by the firm. Nevertheless there's a lot of clutter.
A well placed search bar will probably provide a better customer experience than the extensive menu choices in both desktop and mobile mode.
Like with the previous company, the organic traffic is limited and for pretty much the same reasons as before. The organic search results from the US show more keyword positions than the Canadian Google database. However, the keywords are mostly non-relevant to the niche and the traffic from these are almost non-existent.
I like that their Facebook activity displays the 'fun' aspect of working at A Hundred Answers. This kind of brand image is particularly helpful with talent acquisition.
With some work and strategic direction, all the social feeds of A Hundred Answers could establish a vibrant social presence that serve multiple business goals.
At present a moderate SEO, social, and content marketing effort could help competitors create a sizeable lead over this firm's digital presence. There's also an opportunity to leverage content marketing for digital visibility in this niche.
3) GROUPEX SOLUTIONS: SAP partner providing SAP consultancy and workforce software solutions.
Profit500 ranking: #12
Head Office: Concord, ON.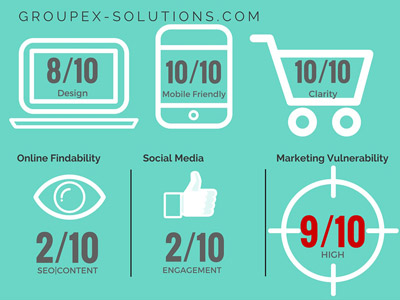 The website is clean, uncluttered, and functional. The mobile phone version offers a comfortable user experience as well.
The WordPress CMS usually makes it easy to rank for relevant keywords. So it's surprising that this website does not rank well for relevant organic keywords.
The business probably does not want to rank in the top 20 search results for 'party solutions' on Google's Canadian database. Optimizing the title tag of the page in question along with some on-page content can fix this 'irrelevant ranking' issue. Small things.
Tip for Groupex: Install/use the WP Yoast SEO plugin to start.
The website does better on Google's US database for keywords related to their core business activity. It may help matters to set Canada as the target country in the search console.
If you are competing in this niche, a keyword analysis driven SEO strategy can easily help you rank above this website. Their social media activity is intermittent too.
As things stand now, it's relatively easy to establish a better digital presence than Groupexsolutions.com. But then again, there's probably other entrenched competition in the niche whom you need to beat.
Find out how.
Digital marketing case studies of the top 3 fastest growing professional services firms
To avoid being repetitive the next three analyses will be even more brief. You should be able to draw useful conclusions based on visual report cards and the information provided earlier in this post.

1) OPTIMUS | SBR: Management Consulting firm
Profit500 ranking: #63
Head Office: Toronto, ON.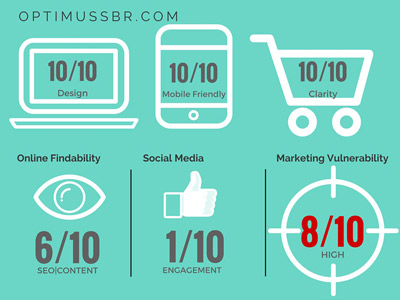 Strengths: Compelling website and ranks well for a good mix of branded and niche relevant keywords.
Vulnerabilities: Off-page SEO, social media and content marketing.
2) SECUREFACT TRANSACTION SERVICES: Compliance for Financial institutes
Profit500 ranking: #68
Head Office: Toronto, ON.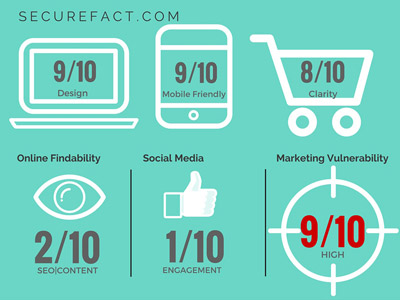 Strengths: Website.
Vulnerabilities: On-page and off-page SEO, social and content marketing.
3) GLOBALME: Translation services
Profit500 ranking: #94
Head Office: Vancouver, BC.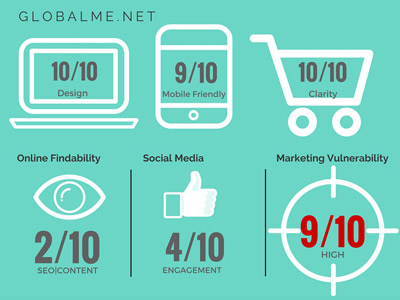 Strengths: Website
Vulnerabilities: On-page and off-page SEO, social and content marketing.
How is it that these companies are growing fast?
You're probably wondering why these companies are growing in spite of the seemingly low scores in my report.
Well, there are some limitations in my analysis. Time and resource factors do not allow me to deep dive into the digital presence of each of the businesses listed in this blog post.
Obviously too, business strengths apart from digital marketing play a part in business growth. Business development, customer service, management, traditional marketing capabilities, established brand awareness, product R&D etc. all contribute to a successful business.
And the Canadian businesses mentioned in this post are undeniably doing a lot of things right.
However, there's no guarantee that these alone are sufficient to remain competitive in the era of the hyper digital customer. Opportunities abound for disruptive competitors.
Recent examples of digital darwinism are a lesson to incumbent business leaders. The time to lay the foundation for a true digital transformation is already here.
Agree?