Like it or not, your business will increasingly compete with billions of dollars worth of marketing technology spend.
It used to be that social media levelled the playing field when it came to getting the word out about a product or service. That's rapidly changing. There's too much noise out there.
Being 'social media savvy' is no longer enough.
Your not-for-profit, small business, or blog is competing with organizations that can outspend you and many of them are doing just that. Marketing technology is one of the areas where a good chunk of that investment is headed to.
Marketers transition from Mad Men to Math Men
In the era of the hyper digital customer, the role and functions of marketing have undergone a huge change. Just the Mad Men approach is not effective anymore.
Modern marketers need to also make sense of the data pouring out of the multitude of digital and traditional touch-points that customers interact with. This understanding helps them compete and optimize the customer's relationship with brands.
That's where the integration of marketing and technology makes the biggest difference to the customer experience. Changing the Mad Men era forever.
Your business CAN grow and thrive in the digital era.
I've led technology stack implementations that cost hundreds of thousands of dollars. But what if you don't have those kinds of resources?
How can a small business, not-for-profit, startup, or solopreneur compete?
The good news is that you can.
Developing internal digital marketing competencies is one of the ways your business can continue to stay relevant.
You need to go beyond the activity on LinkedIn, Facebook, Twitter or blog and implement strategic automation and technology integration efforts.
Research software that can help you understand the ever increasing volumes of data from your customers. This data is your competitive advantage now and in the future.
Investigate how you can start building a technology stack that grows with your business.
This will put you on the path to developing internal competencies that allow you to thrive in the coming years. And give you a head-start over your competition even today.
There's now easy access to a bunch of the technologies that can help you with business goals. These kinds of technologies would involve millions of dollars in development efforts only a few years ago.
But you have to know where to look and what to do with what you find.
You will see examples of one or more of those hundred thousand dollar marketing stacks on one of the best martech blogs around.
However, since not everyone has those kind of dollars to throw around, I will demonstrate how to put together a marketing technology stack that will cost you next to nothing.
That's a good place to scale from.
The SMACs stack
I'm using about 25 different pieces of technology on this blog. It costs me $11/month; the hosting fee at GoDaddy.
This 25 piece technology stack allows me to
Attract potential customers
Convert them to followers, leads, and customers
Analyze efforts to fine-tune for efficiency and measure metrics that matter
Nurture customers to optimize their experience and maximize the customer lifetime value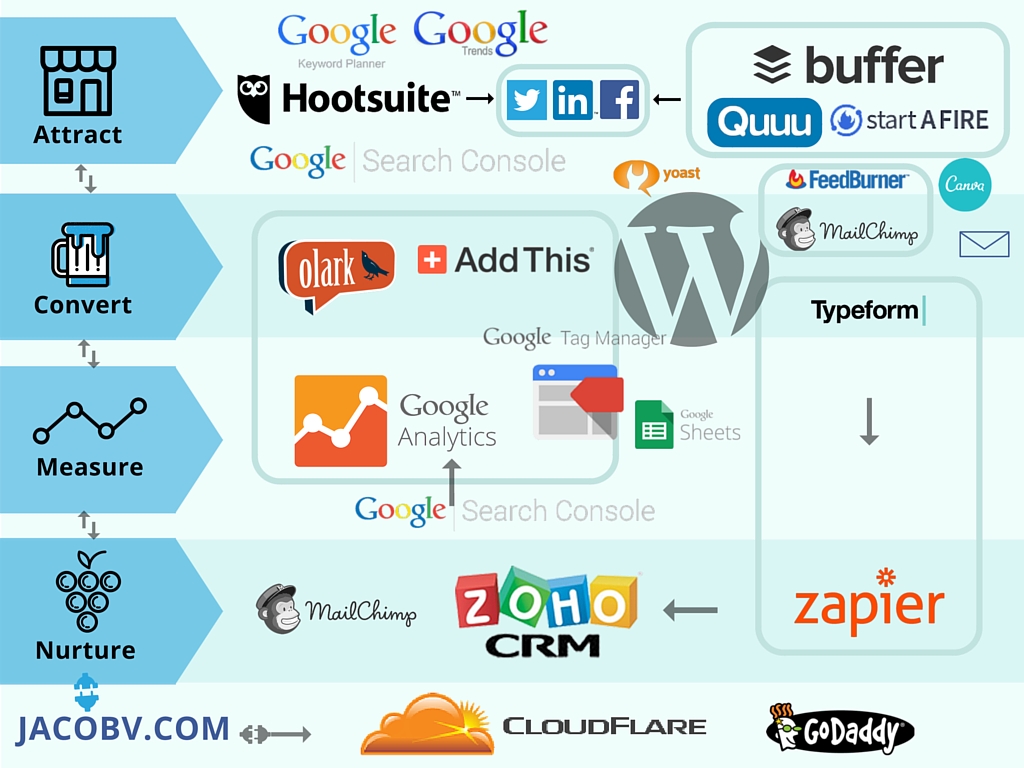 Download the pdf of this martech stack containing interactive links to all the platforms mentioned.
Download PDF: Low cost martech stack
All the technology I use in this stack abide by the SMACs principle.
Social: The technology should ideally have a social component to facilitate interaction and promotion on social media.
Mobile: Any customer-facing part of the technology should be mobile/smartphone friendly. And as much as possible, the admin areas should also be accessible by mobile devices.
Analytics: Each technology should provide access to analytics data.
Cloud-based: I should not need to download any of the software. I should be able to access technology from any place that has an internet connection.
Scalable: While it may cost me $0 right now, I should be able to scale up the technology to accommodate growth.
Note that I obviously use many other technologies to support my digital marketing services.
However, this post deals only with building a low budget scalable technology stack. The thinking behind the stack will put you on the path to using marketing technology strategically. Without needing to know how to code.
The 25 technologies I use tackle one or more areas of the martech triumvirate; Social Media Platforms, CRM, and Marketing Automation.
Attract layer

This is a high-level look at the top part of my martech stack. It is broken down into inbound marketing components. Mainly technology that helps with social publishing, SEO and content marketing. The very things that help attract customers to your website or blog.
Note: Just because you can automate everything it does not mean you should. Use automation strategically to enhance your digital presence NOT to substitute it. Be strategic.
"The goal is to use tools, not to become one"
Convert layer

The previous level of the stack helps me attract customers to the broadest part of my marketing funnel.
Conversations and activities in that part of the martech stack lead them deeper into the funnel. To where I continue to cement relationships and build trust.
In other words this layer is where you convert your visitors to followers, leads, customers, and brand promoters.
Measurement layer

The Math Men part of your martech stack gets intense here. The previous layers provide tool-centric insights. But here's where you get a broader perspective of all the traffic on your website.
You analyze the data and fine-tune your efforts at social media marketing, content marketing, email-marketing, SEO, paid advertising etc.
Your martech stack should ideally provide you with 5 types of analytics
Predictive analysis: What is likely to happen?
Prescriptive analysis: What can I do about it?
Descriptive analysis: What is happening?
Diagnostic analysis: Why did it happen?
Now each of this can involve specialized technology. For our purposes we will rely mainly on one analytics platform – Google Analytics.
On jacobv.com every important interaction like downloads and button clicks sets off an 'event' in Google Analytics. I trigger off events via tags in the Google Tag Manager.
I know how effective my content is in driving action based on these kind of tracking mechanisms. I also know how much each source (social, organic, direct, email, referrals) contributes to desired outcomes.
Based on this I optimize my resources and tactics across channels.
Nurture and renew layer

Start tracking your leads pipeline, keeping record of your tasks, see how long your team takes to convert leads to paying customers. Invest in maximizing the lifetime value your customers bring to your business.
Finally the website is hosted on Godaddy servers and is also using Cloudflare for an added layer of security, speed and efficiency.

The dynamic martech stack
Which brings me to the point that your martech stack is meant to evolve over time. It has to not only scale with your business but also allow you to extend it as needed.
The martech stack has to accommodate ongoing experiments and innovation.
As with any useful business technology your martech stack is an adaptable work in progress.
A good martech stack is a perfect complement to a comprehensive digital marketing plan. It does take some time and effort to put it all together.
There's no better time to start than now, is there?
On the other hand, if you are looking to achieve results in a quicker timeframe let's talk about it. Not every business can afford to invest in a lengthy learning process.
Maybe your team and business just needs better direction. There are plenty of ways to accelerate results with strategic allocation of resources and tactics.
A basic martech stack is the proverbial 'tip of the iceberg' when it comes to a marketing strategy for business growth.
Why not request your customized, no-obligation, digital marketing analysis today?