If you're wondering how to grow your website traffic, it makes sense to dig into the channels that drive traffic.
Trying to 'increase traffic' is often a fool's errand without a better understanding of various sources that constitute the 'traffic' in question. If the basics aren't clear the goals become difficult to achieve.
I was at a recent leadership event where one speaker Andy Stanley, asked the crowd at what Hillary Clinton's, Ted Cruz's, or Bernie Sander's campaign slogan was.
Not many knew the answers.
He then requested the crowd to recollect President Obama's slogan from 8 years ago. Almost everyone remembered, even after all these years, that it had something to do with 'change'.
Next, he asked us to repeat Donald Trump's campaign slogan. Everyone, including the Canadians at the Ottawa venue of the event, said 'Make America Great Again'.
The point Andy was making was that 'clarity' is a prerequisite to drive action. The clarity of Obama's message won him the presidency. Likewise, Trump was able to galvanize support on his way to the republican nomination with a clear message.
We value integrity. We 'Follow' clarity. -Andy Stanley #leadercastyow #ArchitectsOfTomorrow

— Leadercast Ottawa (@LeadercastYOW) May 6, 2016
When you know where your website traffic comes from, you will make better decisions on which sources to focus your traffic gain efforts on.
Once you have clarity it becomes easier to put together a strategy.
The thing is, there are only about seven possible main sources of traffic to your website. So it's fairly easy to get a grasp of these individual buckets of website traffic sources.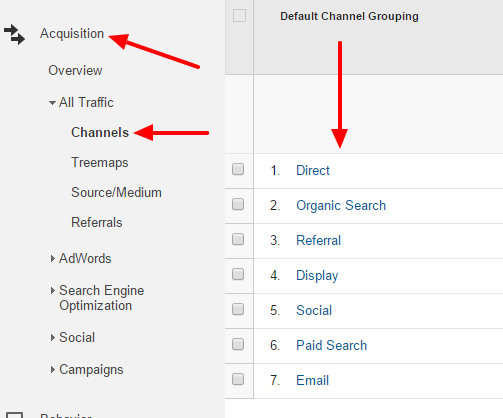 Let's start with your Google Analytics to see the most common traffic sources that usually show up by default.
1) Direct
Typically this is when someone types your domain URL into their browser or arrives at your site through a saved bookmark.
However, it can also include a broader set of sources including a click-through from a link in a PDF.
Traffic which does not have a 'referrer' in the HTTP header will show up in direct traffic bucket.
Basically, if Google Analytics does not get information of the traffic 'referrer' it lumps it into the 'direct' bucket. It's worthwhile to understand direct traffic better if only to maintain tracking accuracy.
The legitimate sources of direct traffic could vary from someone entering your web address from a business card, a pamphlet, to traffic from traditional media like TV, or billboard advertisements that display your website URL.
2) Organic
Organic search traffic includes the visits through search engine results that most closely match the user's search query.
You can increase the organic visits to your website by 'optimizing' your site around keywords and topics relevant to your niche. SEO is the process of undertaking 'on-page' and 'off-page' tactics to increase the organic traffic to any website.
Keyword and competition analysis is a good place to get started in your organic traffic building efforts.
3) Referral
This is traffic that ends up on your site by clicking on links on other websites or apps. A site which provides its visitors with links to your site is called a 'referrer' as it refers traffic from one place to another.
Depending on how you set up your Google Analytics, traffic from affiliates can fall into this traffic bucket. Some, though, prefer to set up custom sources to track affiliate traffic.
Creating helpful, informative, entertaining content that others want to link to, is one way of increasing referral traffic to your site.
4) Display
Display traffic comes from your banners or CPM ads via your display advertising vendors like the Google Display Network.
If you have an ad budget this could be another option for you to create brand awareness, as well as generate visits to your website.
5) Paid Search
When you pay Google, Bing or any other search engine to display your ads for certain keywords and receive visits from them, the traffic falls into this bucket.
Optimizing your ad-spend and improving your ad quality metrics are some ways to drive more value and visits from your paid search campaigns.
6) Social
Social media traffic that comes from LinkedIn, Twitter, Facebook etc. fall into this bucket
A strategy based on content is one way to ensure you create value and drive meaningful traffic via social media to your site.
7) Email
If you have tagged your email campaigns appropriately, visits from the emails sent from these campaigns will fall into this bucket.
Most professional email marketing platforms make it easy to integrate with analytics software so that you can track these campaigns accurately.
Segmenting and personalizing your email campaigns so that they are aligned with the recipient's needs is a great way to increase the number of visits from this traffic source.
Prioritizing traffic sources in your marketing strategy.
You will need to decide which of these sources you need to prioritize in your strategy to increase visits to your site.
This prioritization should be driven by your marketing plan. Here's a one-page marketing plan template to help you get started.
It is important to know that there is a significant overlap between many sources of traffic.
For example, the keyword analysis that propels your organic traffic can also provide you high performing keywords to use in your paid search campaigns. And vice versa.
Similarly, social media distribution of your content can result in your blog and website content being found and being linked to. These back-links (which fall into your 'referral' source bucket) are vital to your off-page SEO efforts that power organic traffic.
It is important to keep in mind that the overall objective of a good website marketing strategy should not be just to increase traffic but to optimize meaningful traffic to your website.
Web traffic that does not help your business achieve its goals is just another vanity metric.
Our friends out of Chicago, Straight North, have put together an Internet Marketing Lead Generation Ecosystem infographic to help us identify the invisible barriers to common business goals like online lead generation.
Over to Straight North:
—
No company sets out to create an incomplete, unproductive lead generation marketing campaign. And yet, it happens over and over again, often because critical pieces of the campaign workflow are missing. Why are they missing? Because marketers aren't aware the pieces exist, or see them as separate from and irrelevant to their campaign.
By laying out the entire online lead generation process from traffic sources to new customers, the Ecosystem infographic allows marketers to see how various campaign elements fit together, patch the holes in their campaigns, and as a result, produce more qualified traffic, more leads and healthier ROI.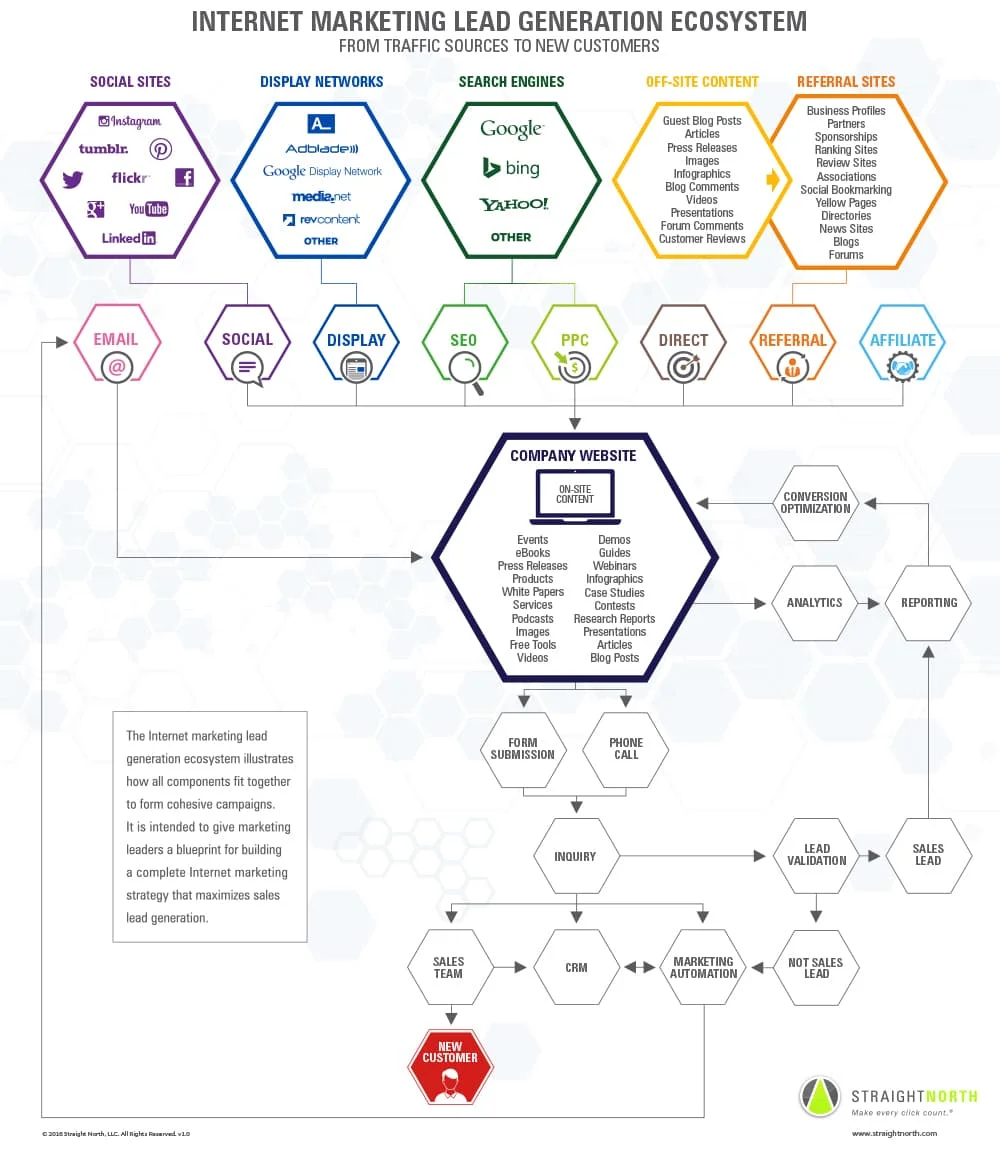 A few areas of the infographic where patchwork is often needed:
To the right of the COMPANY WEBSITE hexagon, note that analytics drives reporting, and reporting drives conversion optimization. Does your organization convert raw website analytics into useful, actionable reports? And perhaps more importantly, do you use the report data to create A/B split tests of content, offers, landing page design, etc.?
Not all campaign-driven form submissions and phone calls are true sales leads. The LEAD VALIDATION hexagon (third row from the bottom) is a critical step between inquiry capture and sales lead reporting. Lead validation separates real leads from other types of inquiries; basing reports and conversion optimization tests on inquiry production rather than lead production leads to incorrect testing and campaign adjustments.