You're doing everything you think you need to do. You have a well-designed website, social media hustle, you're blogging, SEO chops, email marketing, etc. Your marketing team is always busy.
The team or marketing agency is telling you about retweets and engagement. You know exactly what channel is bringing high-value traffic to your website.
"Half the money I spend on advertising is wasted; the trouble is I don't know which half." -John Wanamaker
Or do you?
Have you looked at into the Acquisition menu of your Google Analytics dashboard lately?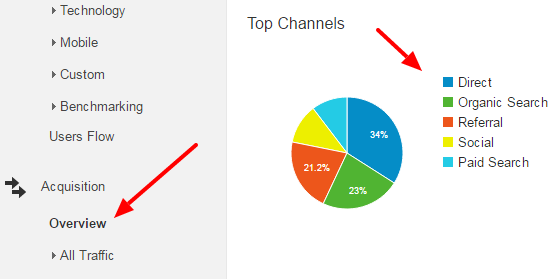 It shows you a high-level overview of your acquisition channels but that's just part of what you're looking for.
How do you know if these channels are bringing the traffic interested in what you offer? What if you are wasting your time trying to reach customers via Facebook while your best customers are on Twitter?
Which channels are working best for your business and where do you focus your limited resources? How do you hold your marketing team or agency accountable?
Digging deeper into your Acquisition channels in Google Analytics can offer those insights.
Hopefully, you've developed a marketing plan that targets your customer personas. If you have them, your customer personas will make the following steps easier.
1) Creating a target customer segment in Google Analytics.
You can use details of the target customer like demographics, location, etc. to create segments that you will use to compare the activity across your acquisition channels.
Let's say your target market is Ottawa and your customers are between the ages of 25-45.
Use the 'Add a segment' option.

Then click on 'New Segment'.

At this point, you can narrow down to your target audience.
In this case, I decided that in addition to those in Ottawa aged 25-45, I would also include those in Toronto and Montreal. I then narrowed my search down by "Affinity Category" to those interested in "Travel".
As you can see the graph on the right shows me that only 6.95% of my traffic met that target criterion.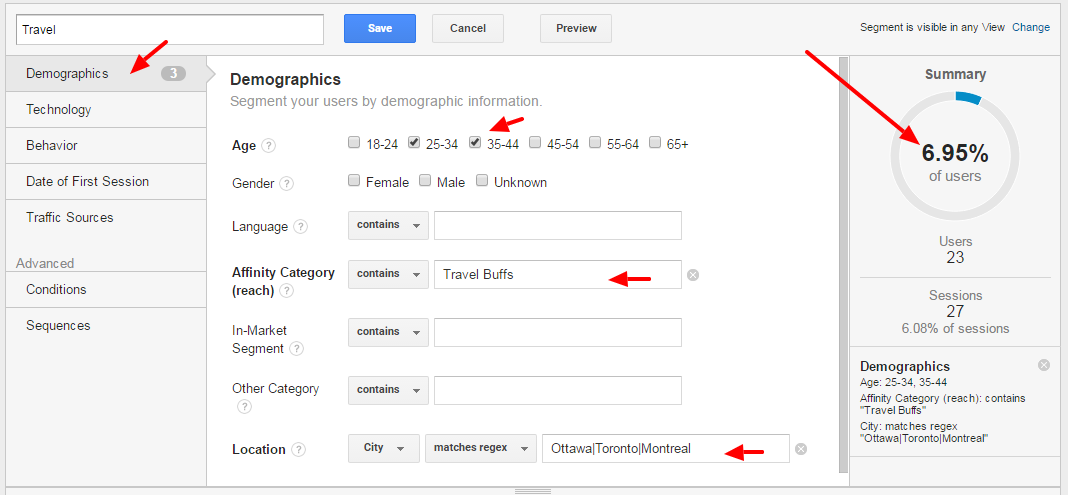 You have a bunch of options available to really fine-tune your criteria including the 'In-market segment' option. According to Google:
"Users in these segments are more likely to be ready to purchase products or services in the specified category. These are users lower in the purchase funnel, near the end of the process."
Google also allows you to segment based on a whole bunch of 'rules' including regular expressions. Powerful stuff indeed!
2) Identifying the most effective channels.
You now have your segmented traffic data alongside the complete traffic data.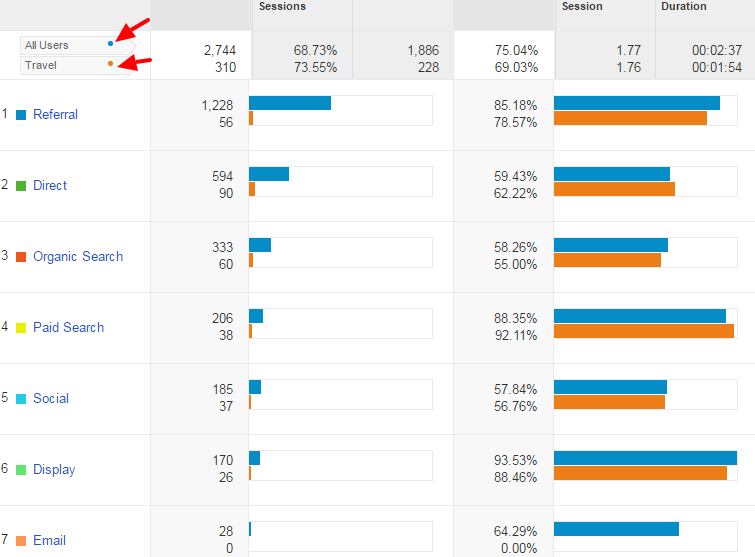 The report gives you a good idea  of how well the different channels are doing in terms of the target market (based on our segment).
You can also drill down into the channel to see which sub-channels are performing better than others.
The following chart shows that Twitter is doing a better job for this potential client's website than Facebook or LinkedIn.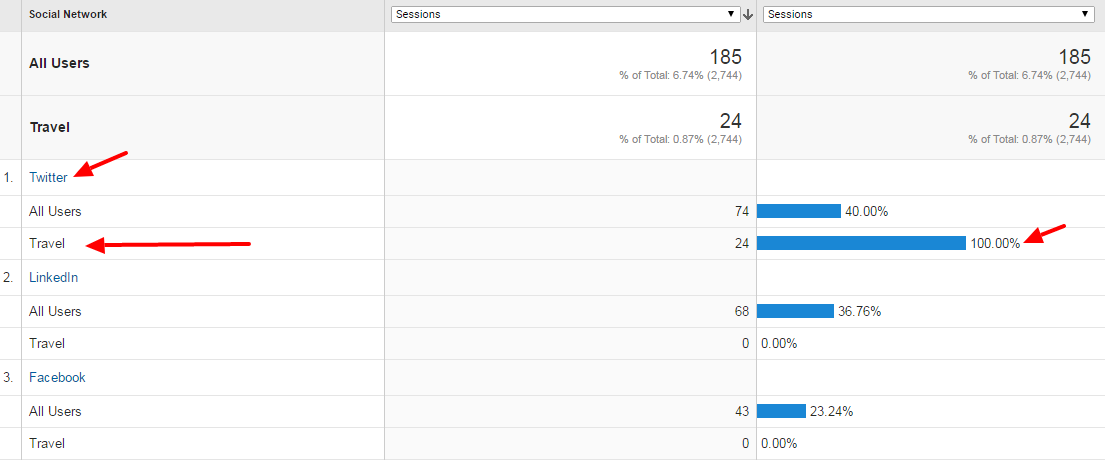 You will need to enable the 'Performance tab'  to see the above visual display.

Pretty neat right?
It gets better.
3) Understanding website traffic in the context of business goals.
While 'traffic' is good, what we are actually looking for is meaningful traffic. We want to attract traffic aligned with our business goals.
How well does the target audience convert? Do they buy our products, download an ebook, provide their email, use the contact form?
In order to find out, we need to set up 'Goals' that we expect the audience to complete in order to consider a casual visitor a 'convert' to a customer or lead.
Let's say your business goal is to make a sale on your e-commerce site or even to get more subscribers to your email list.
In either of these cases, the visitor would reach a thank you page on your website upon successfully converting against your business goal.
To set up this goal in Google analytics
Go to your Google Analytics.
Click on the "Admin" button in the top right.
Click on "Goals"
Click "+ Goal" to set up a new goal.

Choose the 'Custom' option. As you can see there are a bunch of default settings you can use for your goals including social shares. Some of these lead to the same workflows as the 'Custom' option. Name your custom goal and choose 'Destination' as the 'Type'.
Now 'Continue' to provide the Goal details which include the url of the page that the visitor would land on after converting, like your 'Thank You' page at www.yoursite.com/thankyou.html
You can also add a value if you're not using an Ecommerce solution. Leave the option blank if you are using an Ecommerce tracking code.
One way to help determine what a goal value should be is to evaluate how often the users who complete the goal become customers.
For example, if your sales team can close 20% of people who sign up for a download, and your average transaction is $100, you assign $20 (i.e. 20% of $100) to your goal value. If only 2% of signups result in a sale, you only assign $2 to your goal value.

Click Verify this goal to test your goal setup. This will calculate a conversion rate for this goal based on your data from the past 7 days.
That's it!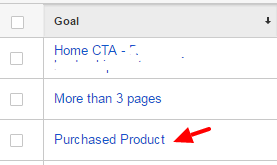 4) The most effective channels for your business
Once your setup starts measuring the conversions/goals it will show up in your acquisition reports.
This is when you see how your target market/segments are performing in the context of real business goals.
Returning our attention to the Acquisition report shows that the "Travel" segment is actually converting better compared to the overall visitors.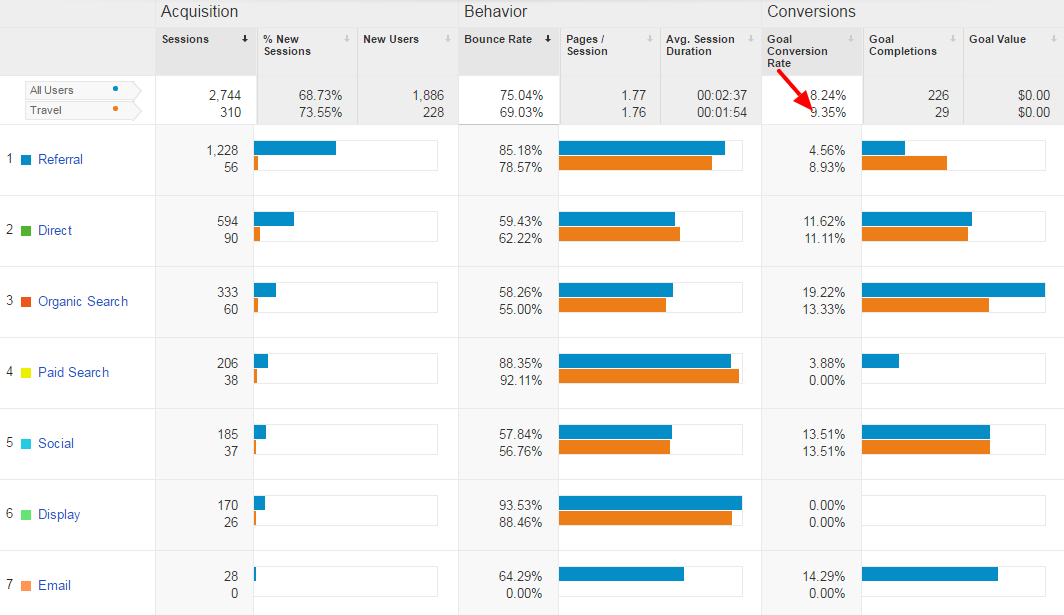 One can use this report to make strategic marketing decisions on improvements to specific channels.
In the above report, the Organic Search (organic keyword driven traffic) channel is not performing well within the 'Travel' segment. To improve this, the website could create content and target other SEO tactics to align the channel with that segment (25-45-year-olds in Ottawa, Montreal, Toronto who like to travel).
It also looks like Email marketing is doing very badly in the "Travel" segment. Perhaps customizing emails for the target audience will make a difference? Or maybe you could expand your target market to include the areas that Email marketing is doing well in.
Or the business could make a decision to re-allocate resources to better-performing channels.
In the following example, Twitter is providing much more value for  social media investment than Facebook or Linkedin is. It's a possible indication that Twitter could drive greater conversions if  more resources are brought to bear on this channel.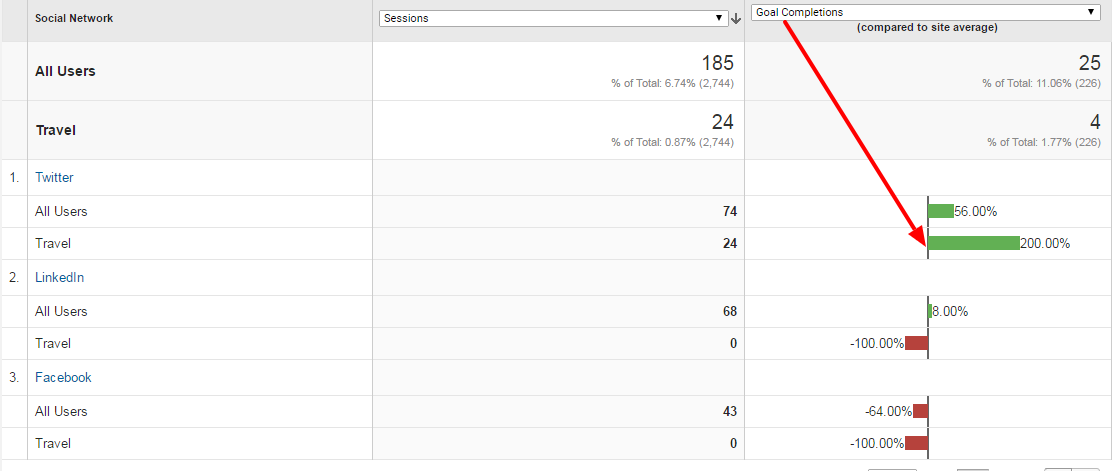 A note of caution: Strategic decisions should be based on long-term (annual trends) as well as short-term (quarterly or monthly) reports.
As you understand by now, setting up these Goals are crucial to qualitative measurements. In fact, unlike this blog post may seem to suggest, 'Goals' set-up should be the first step to complete. I just decided to place this more technical step at the end for narrative benefits.
Learning how to set up your bottom-Line KPI's is definitely time well spent.
Are you happy with your digital marketing efforts? How do you measure the effectiveness of your marketing spend?
Looking to hire a data-driven marketing strategist and technologist to help your business grow?